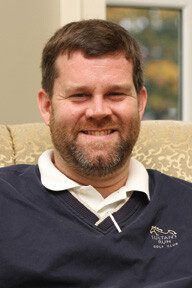 Frank Mansell III
Frank Mansell has been the Pastor of John Knox Presbyterian Church since March 3, 2003. Prior to John Knox, he served as Pastor at Williams Memorial Presbyterian Church in Charlotte, North Carolina from 1998-2003. He also served as student intern in Albany, Georgia, and Tuckerton, New Jersey and as a chaplain intern at Methodist Hospital in Indianapolis.

In 1994, Frank received his Bachelors of Arts degree in History from Davidson College in Davidson, North Carolina. He then earned his Masters of Divinity from Princeton Theological Seminary in Princeton, New Jersey in 1997. During this time, Frank has had the opportunity to study overseas on two different occasions. He studied at the University of Glasgow in Glasgow, Scotland in 1993 and at the Graduate School of Ecumenical Institute in Bossey, Switzerland in 1997.

On November 8, 1998, Frank Mansell III was ordained as a Minister in Presbyterian Church (USA). Frank is the fifth-generation of Presbyterian ministers to serve the church in his family.
During his time at John Knox, Frank has served the larger church in a number of ways, including being a commissioner to the 2008 General Assembly of the PC(USA), a member of the Whitewater Valley Presbytery Committee on Ministry, and chair of the Advisory Council for Pyoca Camp and Retreat Center.

Frank is happily married to Deborah (Debbie) Mansell, who is an ordained Presbyterian minister serving as a chaplain at IU West Hospital. Frank and Debbie are blessed with two children, Erin and Heather.
In his spare time, Frank enjoys playing golf, as well as following other sports; working in the yard and on household projects; traveling; music; needlepoint; and being outdoors.