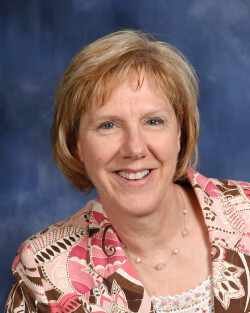 Lisa Crismore
Lisa Crismore has been a Commissioned Lay Pastor at John Knox for 7 years. The focus of her call to ministry is to coordinate and plan the Christian Education Programs. Lisa also enjoys assisting with leading worship, preaching and pastoral care. Prior to and during her time at John Knox, Lisa worked at FedEx for 14 years. After completing Commissioned Lay Pastor training in 2001-2003, Lisa heard God calling her in a new direction, which led her to John Knox. She has been very blessed by this congregation. Lisa enjoys serving side-by-side with the members of this church to be the face of Christ to our community. She believes that God clearly has plans for our future ministry, which includes our Hispanic neighbors.
Lisa graduated from Hanover College with a degree in Business in 1983. She has been a Presbyterian all her life.
In her spare time, Lisa enjoys having fun with her family, watching movies, traveling, hanging out in bookstores, and going to the theatre and the symphony. Her husband, Jim, is a middle school orchestra teacher in Lawrence Township, and the part-time choir director at Faith Presbyterian Church. They have two grown children. Bethany is 25 years old. She is spending a year in San Antonio, Texas serving the PC(USA) as a Young Adult Volunteer (YAV). Sarah is 23 years old and a recent graduate from Eckerd College. Searching for a job in her field of Communications, Sarah is living at home with her parents. Jim and Lisa have 2 spoiled Cocker Spaniels, named Taz and Lucy and 2 grand dogs, Suzie and Sienna.